Looks like Christmas came early this year, as Mugler has announced a brand spanking new fragrance to add to their Angel, Alien, Womanity, and Innocent lineup. Even after such an amazing release like Angel Muse recently, I think even diehard Mugler fans were getting a bit of "flanker fatigue." I mean, the flankers tend to be good to great, but c'mon. There are only so many flankers one girl can have, ya dig? That's why I'm so pumped for a completely new release from one of my absolute favorite houses.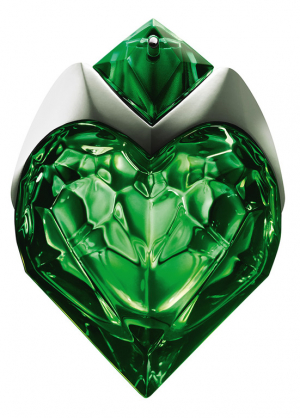 First of all, can we talk about that bottle? The emerald green is gorgeous, and it immediately reminded me of something out of a Zelda game:
The green is likely a nod to it being a green fragrance, as its notes (according to fragrantica) are:
Top: rhubarb leaf
middle: orange blossom
base: bourbon vanilla and "wolfwood"- whatever tf that's supposed to be.
Rhubarb is a note that I feel has been subtly trending recently, as in Hermes Rhubarb Escalarte and the enduringly popular D&G Anthology L`Imperatrice 3. I'm so ready to have a rhubarb based scent in my collection- it's such a unique way to add some tart, quasi-fruitiness without going the typical fruity route. And I'm sure the fact that it's rhubarb leaf will make it more on the green side. It doesn't look like this is a straight up gourmand, but I'm already seeing some Alien "sweet and juicy but not a gourmand" vibes from the fact that there is bourbon vanilla in the base. And "wolfwood?" I am a woody fragrance lover, so I'm intrigued to see how that manifests.
Apparently, a green aura (according to totally legit website "reiki-for-holistic-health.com") represents:
"…growth and balance, and most of all, something that leads to change."
Aura is definitely a big change for Mugler. Their last original release was 7 years ago with 2010's Womanity, so I think we're all ready to be sporting green auras this year!